Tootsy Thursday: Cavalli's leopards are on the run
Roberto Cavalli is king of the designer's jungle! With his wild leopard and floral patterns every fashionista – whether large or small – can live her  wild and also her eccentric vein! And certainly always with style!
In Florence, we got a sneak peek at the next season, where it will be getting wild! Cool girly sneakers mixing the wild leopard patterns with delicate rosé notes .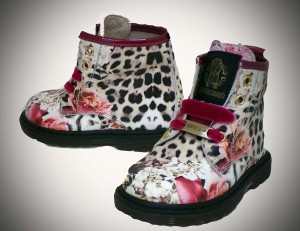 Already for spring/summer 2013 the Doc Marten's boots experience their comeback. That is of course, much more visible in the fall/winter collections.
Roberto Cavalli mixes the often somewhat boring Doc Marten's shape with a wild leopard/floral pattern and creates wild booties for cheeky mini-fashionistas.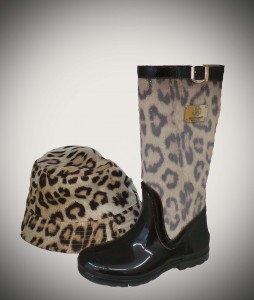 And even if the weather is not really suitable for wearing high fashion, little miss can for sure wear these stylish leopard wel
ly boots – the absolute eye-catcher during a walk outside, an excursion or on the playground.
Combined with the smart leopard hat, the outfit is perfect!
Cavalli's Black Suede biker booties for girls are our absolute favorite. Decorated with the typical Cavalli logo in gold and other gold rivets, these all-round boots will be essential fashion item in any wardrobe.