Label Lovelies on Tuesday: Poolparty with WetPets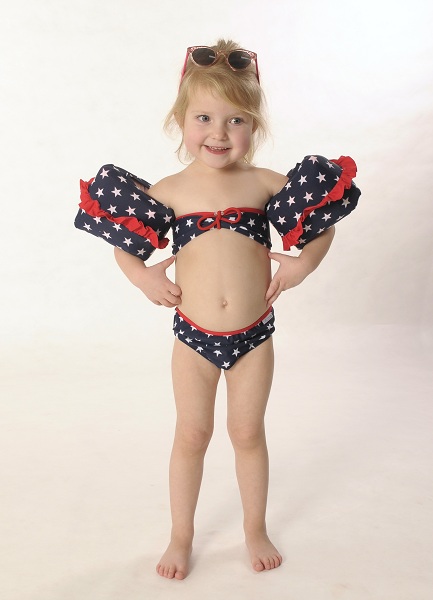 Im Freibad, am See oder im Urlaub am Meer, Schwimmflügel sind als Schwimmhilfe nicht mehr wegzudenken aus dem Badeequipment von Kids. Sie sind ein sicherer und unkomplizierter Begleiter der Kinder im Wasser und sind eine effektive Hilfe beim Erlernen des Schwimmens. So weit so gut, doch ihre optische Erscheinung ließ lange Jahre etwas zu wünschen übrig. In quietschigem Orange schwammen sie der Fashionwelle nämlich  immer ein großes Stück hinterher, für Mädchen waren sie weder schick noch modisch und für Jungs äußerst uncool. Viele Mütter und Väter ärgerten sich zudem über die Tatsache, dass ihre Kinder immer rote Schürfstellen auf der Haut bekamen und sich daher ihrer Schwimmflügel gerne in unbeobachteten Augenblicken entledigten. Wie konnte man da Abhilfe schaffen, ohne die Schwimmflügel selbst, die ja an sich eine gute Sache sind, grundsätzlich zu verändern? Die Idee der WetPets war geboren.
Mit WetPets  werden die bewährten Schwimmflügel aufgepeppt, sie sind quasi die modische Hülle, die zudem die reibenden Nähte abdeckt, aus einem Stoff, der zum Badeanzug passt und damit gut ausschaut, viele bunte Designs und Farben, damit man sein Kind jederzeit gut sehen und von den anderen unterscheiden kann. Angeboten werden daher eine Fülle von Badeanzügen, Bikinis, Tankinis, Pareos, Schwimmhöschen, Badehosen und Bermudashorts – alles mit passenden WetPets. Für die Babies gibt es spezielle Windelbadehosen, liebevoll Pompies genannt. Und all dies entworfen und gefertigt in bestem Design, mit viel Liebe zu den Details, aus hochwertigsten Stoffen aus Italien und Spanien.
Über all dem prangt zu Recht der Stempel: Made – with love – in Germany.