The new JOOLZ Geo as limited Royal Edition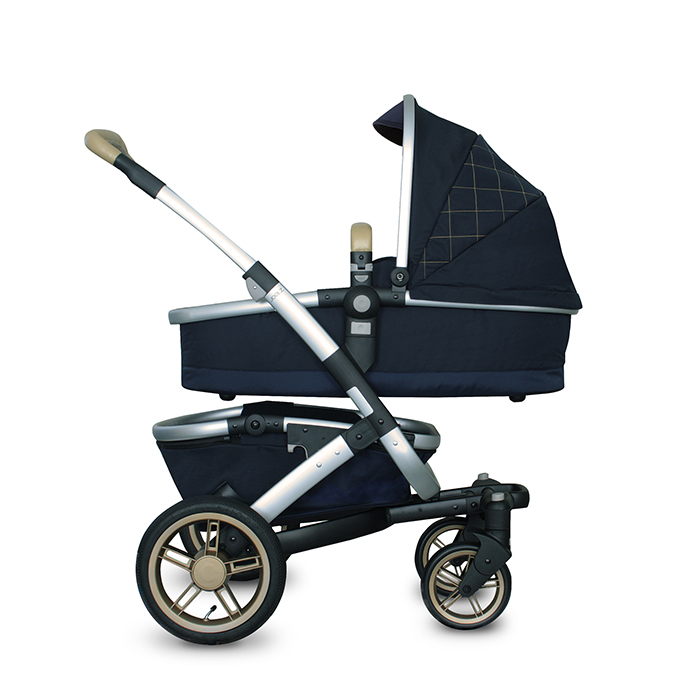 In January 2015, the award-winning range of the stylish stroller manufacturer JOOLZ will be expanded by another highlight: the new model Joolz Geo, which will complete the famous model Joolz Day.

The Geo is characterized by its modular concept, which enables you to choose from five different configurations and is thus always prepared for changes and new challenges. For example, simply attach the large, sturdy basket on the stroller. With a second basket or a second seat the ergonomic design of the stroller offers complete comfort for you, your baby and sibling.
To celebrate the exciting new addition to the Joolz family, founder and creative director Emile Kuenen, wanted to create a special edition of the Joolz Geo inspired by another growing family. 🙂 Namely the English royal family:
The Joolz Geo Royal blue is a one of a kind piece and will be donated to a charity. Doesn't it look super chic in elegant royal blue with champange-colored elements, such as the wheels?
"To celebrate the imminent arrival of the second child of the Duke and Duchess of Cambridge we designed an exclusive edition of the Joolz Geo." The Joolz Geo Royal blue is a one of a kind piece and will be donated to a charity.
"At Joolz we believe we all need to move forward to a healthier life, therefore we will donate this Royal Geo to The James Milner Foundation". The James Milner Foundation is a charity to promote healthy recreation for the benefit of young people in the United Kingdom.
The Joolz Geo Royal blue will be auctioned during The James Milner Foundation Winter Ball on the 30th November 2014.
We find this stylish stroller must definitely go in series, so that little George and his future brother or sister may be traveling even more stylish.
Little George could then combine the look like this:
Stroller: Joolz Geo
Cashmere-Cardigan: Marie-Chantal
Onsie with Eskimo collar: Marie-Chantal
Sailor Dungarees: Rachel Riley
Leather shoes: Sonatina
More information on the new GEO:
Wherever you go or how the family might develop, the Joolz Geo grows with each family adventure. The new JOOLZ Geo collection will be available at selected retailers in January 2015,.
The prices
Mono configuration € 999
Duo configuration € 1.249
Twin configuration € 1.349
The mono configuration can be easily extended to the Duo configuration at later date.
The price is € 350th