Tootsy Thursday: Very british!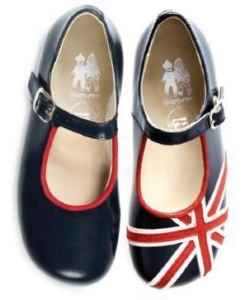 Congratulations! The Royal Baby is born. The Brits are as happy as the Royal family – it seems as if everybody cut loose.
Even one of the most famous inhabitans of Great Britain is exuberantly happy and had a very specially idea to show the love to her home country.

Viktoria Beckham bought these nice shoes for little Harper.  On her Instagram-acoount: she wrote: "We are proud to be british." Oh, really? Who would have thought so?!
By the way: The shoes are made by the French designer Annabel Winship – but who cares? Aren´t we all somehow  alittle bit british theses days?