Mom's Challenge: The mean hole monster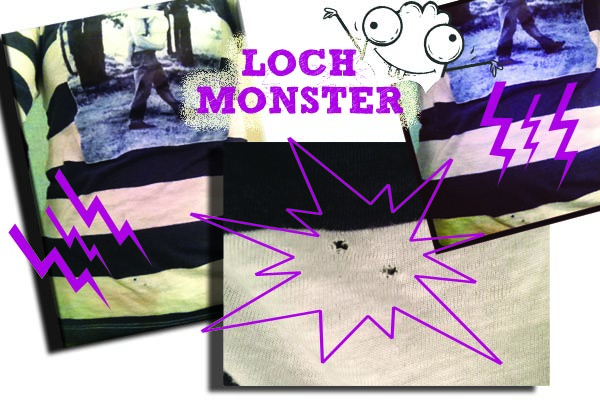 Unbelievable, but true:
The mean little hole monster has struck again!
And as always at the same spot:
On the front lower third part of my really favorite TShirt. This time it even happened after the laundry. The shirt was whole after the laundry and the holes appeared while wearing the shirt. So when exactly did the hole monster struck without being noticed at all?
The little monster loves biting into my favorite shirts, especially the expensive ones. Funny enough, the simple H&M shirts remain untroubled from the monster. And not only mommy's shirts but also those from Daddy are fret into. Ony Pippas shirts remain untroubled.
In the beginning the bite marks appeared mainly in the Abercrombie & Fitch shirts, which lead me to the initial conclusion that it was the brand's strategy to insert fine, invisible holes into their shirts which become larger with every laundry. As part of their vintage design and as purchase motivation to buy new shirts since the old ones have holes. However shortly after my conclusion, holes appeared in shirts from other brands as well  🙁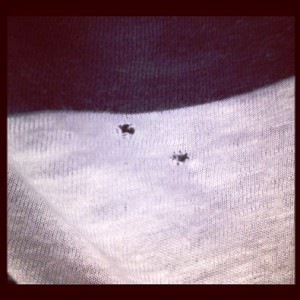 Thus, I've been trying to find out the mean hole biter. I supposed it in the leaundry machine, however I do not know any laundry machine brand that can put holes that precisely at always the same spot.
Then I went for the belts – but no success here either since today I was not wearing a belt and still discovered new holes. Even zippers from sweaters and hoodies are innocent according to my observations leaving only the zippers of pants. However this would mean I would make the weirdest moves in order  to get my shirt down into the pants' zipper at all.
So when does it actually struck and how can I fight the hole monster avoiding any more holes? 
Do you also have a little hole monster at home and a theory / tip, where it comes from and how one can avoid any more holes?