Baby Wishlist – Gift Ideas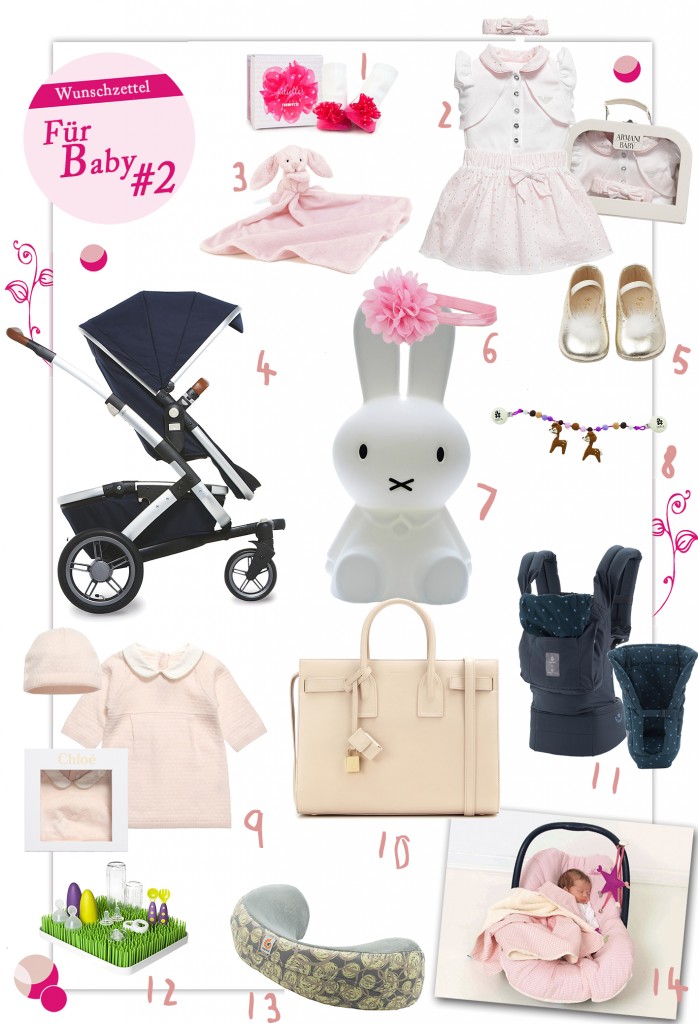 The arrival of our second little angel is approaching with big steps. Typical for almost every second-time mom the birth date was yet sooo far away. Out of sheer every day work with child and job I hardly came to any preparations. Especially as mom with fulltime job you plan the time until the very last day before giving birth. However on the weekend I had to learn the hard way that life is what happens while you're busy making other plans – and I was hospitalized as the birth would have otherwise gone off much too early, as originally planned.
Thus, now I come to the beautiful themes of pregnancy, namely finally compiling a wishlist for baby Nr2 and also for mummy.
Even for the second child, the anticipation and excitement fis enormous and we are asked from all sides about gift wishes for our little angel. Although we already have a daughter, I think it's important that baby # 2 does not live in the stored 2nd hand things of big brothers and sisters but is also blessed with beautiful welcome treats.
Therefore, I give you here a little glimpse on my baby wishlist, from which you can certainly take gifting ideas for your beloved ones, too  🙂
♥♥♥♥
1. Must-have for every little fashionista are sugar-cute baby socks in ballerina style by Trumpette
Do not fall off and still look like little ballerina shoes.
2. Little gift suitcase by Armani Baby with Body dress and matching headband for baby girls.
3. Super soft comforter with snuggly rabbit by Jellycat
4. THE most stylish stroller of the street is the new JOOLZ Geo, with which every mom wants to introduce their offspring outdooors
(* My Favorite must-have on the wish list in a stylish dark blue *)
5. With sigh guarantee: platinum-colored Baby Ballerinas with fur-pompom by Sonatina
6. Lightweight baby and girls headband by kids-and-couture with organza flower
7. My biggest wish for the kids room is the uber cute Miffi lamp, which simply makes adorable soft light
8. Pimp-my-Joolz with the cute stroller chain by Sebra with crochet deer
9. A dream in soft pink fine knit by Chloé – a wonderful giftset for newborns and baptism babies
10. Why actually always getting an explicit diaper bag?
I loooong for the powderbeige Sac de Jour by Saint Laurent
Would not just look incredibly good on me but also pimp my dark blue Joolz as stylish accessory
11. Soooo stylish: the new Bellybutton baby carrier Lucky Star by Ergobaby with handy new born set, avvaiable in dark blue with light blue stars or olive with pink stars
12. My absolutely favorite new product discovery from the USA is the funky and nice drying rack for milk bottles and pacifiers by BOON Looks like a grass lawn and can be pimped with various flowers which can hold pacifiers or bottle caps.
13. Secret tip for all nursing mums is the brand new Natural Curve nursing pillow by Ergobaby, firmer than other nursing pillows with an ergonomic shape it really helps keeping a proper position while nursing your little one!
14. Pimp my Maxi-Cosi: isn't it adorable, the summer car seat cover in light pink vichy checks by Djou-Djou Design
♥♥♥♥
You can certainly also compile your very personal gift registry in our kids-and-couture Sho, where you can add all your fashion wishes from our shop and share it with your beloved onees. This way you really get what you want avoiding double gifts!