Sunday Inspiration: a touch of luxury for the nursery with Hermès
It's not glamorous? Hermy- the €400 Hermès plush horse !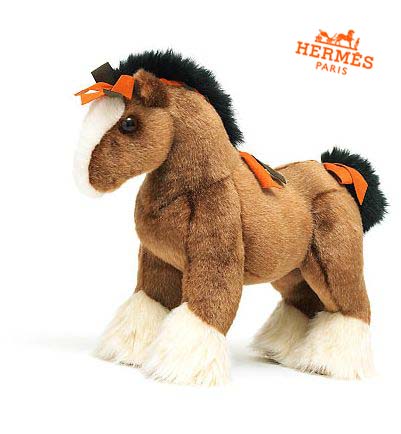 Somehow, everyone seems now to be at the age where we eagerly start breeding. Constantly I am invited to a friend's Babyshower and it is just incredible fun to buy lavish gifts in anticipation of the soon coming new earthling.
And we are honest – actually mommy has already get everything baby needs shortly before the birth. Thus, for the Babyshower we can perfectly think about pampering.
What could be better than the cute plush horse Hermy from Hermès? OH YESSSS, it is outrageously and insanely expensive! But it brings a touch of pure luxury and a soft cuddly friend for a lifetime in the nursery – which will always be connected with you.
For over 150 years horse-carriage and horse are unmistakable symbols in the logo of the luxurious saddler and the leather goods manufactory Hermès from France.
Now, Hermès has brought the sweet icon in plush to life and brings pleasure and luxury for kids.
Available in
• Size 28 cm, ,costs approximately €295 or
• Size 38 cm costs about 415 euros
Material 100% Polyester-Alcantara