Tootsy Thursday: Style sneakers for boys
The other day,… in the showroom of Ralph Lauren,…

…we finally discovered a proof that there also exist extremely cool sneakers for boys. Namely from Ralph Lauren.
See all images in today's Tootsy Thursday.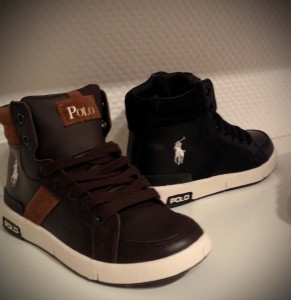 Made from high-quality materials in combination with a cool sneaker sole these sneakers are really an eyecatcher!
The basketball boots in chocolate, which have a particularly wide tongue have special style factor. Thus, small Fashionistos look extremely stylish.
This summer the focus is particularly on the subject of sea, sailing and water sports and that is why noble pirate sneakers cannot be missed in the assortment.
Finally a well composed collection for boys, that is everything else than just functional and particularly stylish and comfortable….