Mommy's secret: the world's best self tanners
Same procedure as every year….. the tanning comparison and competition has begun ….. "Haven't you just been on vacation?" a friend recently asked me when I just came back from a few days in the warm south. "Yes, I was" …. 'but why in the world are you this pale "….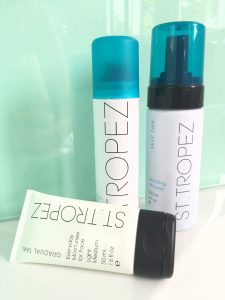 Not least it's due to this lousy summer that I can shine with chalk white legs instead of a chocolate complexion. However, since since I became a mom, I can count relaxing hours on the sun lounger anyway on one hand, and thus it is not far away with the famous holiday tan.
Now apart from the fact that I unfortunately don't tan very fast anyway and have to "roast" for days, in order to even see a significant effect, it is also completely unhealthy and causes more wrinkles than long-lasting tan.
I recently stumbled across the secret weapon of all tanning aids and MUST tell you about these amazing products.
No, it is not to conventional self-tanning stuff that turn me into an orange-checked beauty victims.
Thanks to the ultimate self tanners by St. Tropez I now manage a truly authentic, wonderful vacation tan – without streaks and in a shade that is deceptively !!
The self tanners come as classic lotion, as leightweight mousse or fine spray. They're applied using a coated glove to avoid tanning of the palms. Besides really great application instructions (the Videos on the website are simply great), I have to particularly emphasize that St. Tropez products are slightly tinted with a light brown color.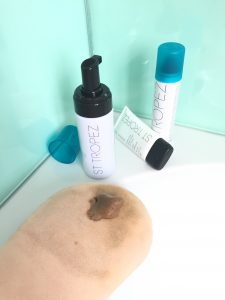 Thus you can see directly while applying, where you have possibly forgotten a point and where you should apply again.
During my recent South Africa vacation, I did a secret St. Tropez session and received feedback from my husband, "When did you actually speed-up to get this tanned, honey?… that's unfair." Though he is usually mega critical and notices everything 😉
Overall:
I AM IN LOVE with St. Tropez
and no longer torture myself with harmful hours in the too hot sun to just not nearly tan as beautiful as with St. Tropez !!
The St. Tropez products are not the cheapest, but they're so worth their price. You can get them for example here..