Sunday Inspiration: Interview with Pamela Bini from Mychildworld
Pamela Bini is a real working-mum. The 40 year old Italian has recently started her own business, togehter with her partners and friends Roberta and Sofia. "Mychildworld" is a is a social shopping platform where mothers can discover, share and buy anything they need and like for their children. As a mompreneur she manages to combine the education of her six year old daughter and her life as a business woman.
Of course we had to invite her to a short interview to hear everything about her new life.
Pamela, how did you come up with the idea of Mychildworld?
In summer 2012 my daughter was five and I was a full time entrepreneur leading an industrial business in the petrochemical field. Which means, as almost all the mums in the world, I had no time at all to start a new business! But I wanted to challenge myself and make something different, something that could add some sparkle to my "grey business days". So I decided to start writing a blog. I started writing about my life as a mum and about children topics like fashion, design and parties. This simple decision turned my life upside down because, while perusing the web, I realised something was missing.
Now it´s getting exciting… What did you find out?
Mums needed a one-stop shopping platform where they could furthermore meet and find mums like me: terribly busy, short in time, in love with their children and shopping addicted. So I decided: I can do it! I decided to build up a virtual place where mums could create their own mix and match of products for their children from thousands of e-shops worldwide, discover new stuff from other – known and unknown – mums, buy their discoveries and share their creations inside the platform and on the main social networks. This is – in a nutshell – how the great adventure of MyChildWorld started.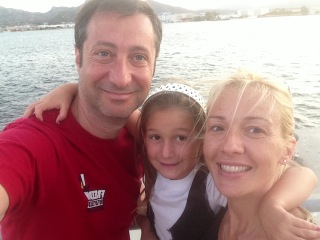 Pamela with her family
Since you work in fashion, we are very interested in getting to know your favourite brands for yourself and for your daughter!
I love to discover and buy small new brands. At the moment I am in love with Chiara Bruni and Pier Antonio Gaspari, Mad Moiselle and Emma&Gaia. My fav shoes are Renè Caovilla, Louboutin and Gucci. Bags: Maison Martin Margiela, Gucci and Fendi.
For my child: "Among the small brands I like the enchanting style and the great cachemire of Eden&Zoe and the fashionable sunscreen clothing and bathing suites of Tamarillo (which does amazing clothes for mums too!).
Among the famous ones, Chloè, Little Marc Jacobs, Marie Chantal, Twin set and Stella MC Cartney. I like them because they have high quality products with that something different and their prices reflects the quality I am paying for.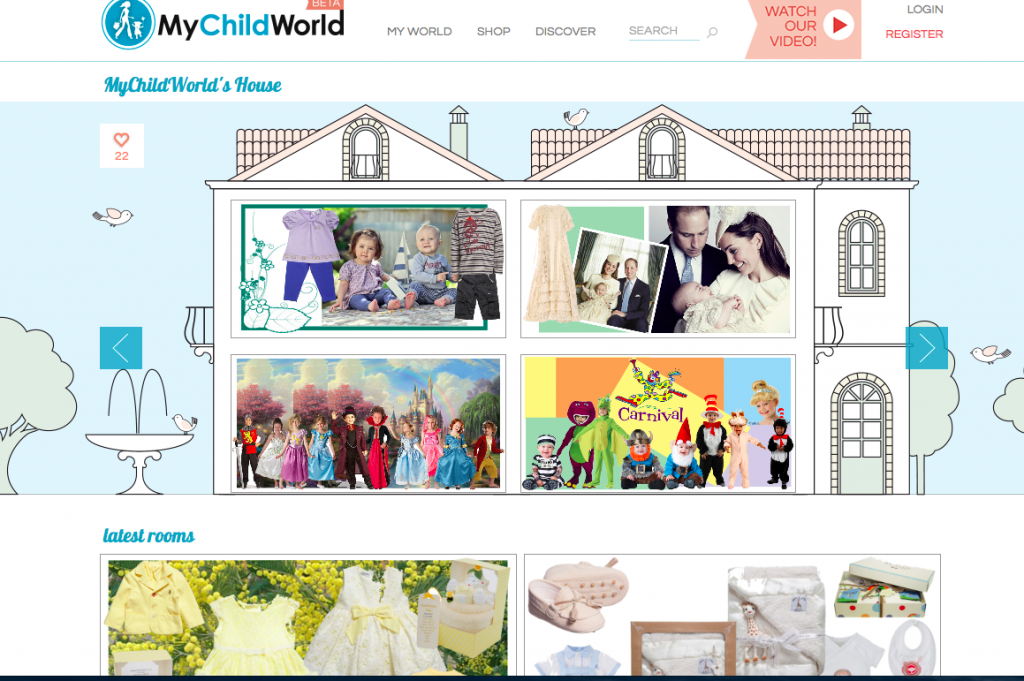 Mychildworld is a brandnew shopping platform on the internet
Which is your favourite shopping city? Or do you often shop online?
Unless for small new brands which I discover shopping with my COO and friend Roberta Desogus, I buy only online. My favorite online shops are Net-a-porter and Farfetch. For my daughter, obviously, MyChildWorld.
How would you describe your and your daughter´s style?
My  and my kid's style is a mix and match of different ones, usually classic/casual with a twist of rock. For my daughter for example I love to mix the classic style of Marie Chantal with the rock of Super Trash Girls while I love to wear Ash bikers with my Pick-a-Boo and a little black dress.
Concerning fashion – what is important for you?
It is important to me that style and beauty work together with the needs of my daily schedule. Clothes have to express my personality and at the same time follow my life style. As a working woman and mum, I need to be comfortable with what I am wearing so that I can work and meet people feeling at ease in every moment and situation.
You are a real working mums – do you have any suggestions or leads for us how to combine job and being a mother?
Be there for your child. When you finish to work, turn off any device and be there for them. Read them a book, colour with them, tell them a story: spend time together teaching them how to be active and use their imagination instead of sitting passively in front of the tv or disappearing behind a videogame screen. And if you want to have a rest, ask them to draw for you or to tell you a story 😉
Pamela, thanks a lot for this nice interview.