Sunday Inspiration: Let´s sing a song!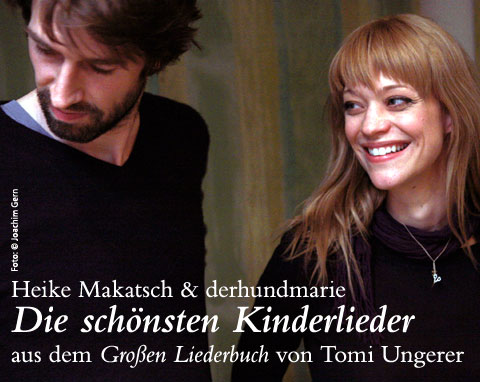 Gosh, it´s not so easy: Your best friend´s daughter is turning four and you don´t know what to give as a present.  A Barbie doll? She already has ten! A cuddly toy? There is no space left for one in the bed.
It´s hard to know what to do: We recommend Heike Makatsch and Der Hund Marie alias Max Schröder, Makatsch´s husband and father of her two children. The actress and the musician recorded it 2009 and it combines the most beautiful songs for children.  'Der Kuckuck und der Esel', 'Wenn ich ein Vöglein wär…' and 'Der Mond ist aufgegangen'. Furthermore there are drawings from Tomi Ungerer and all lyrics.
Children and parents will both like this music and we love it: A really successfull family-project and a wonderful gift for children.
http://www.youtube.com/watch?v=AUN0ncAbFpI