Fantasy Fashion Fun @ Pitti Bimbo Florence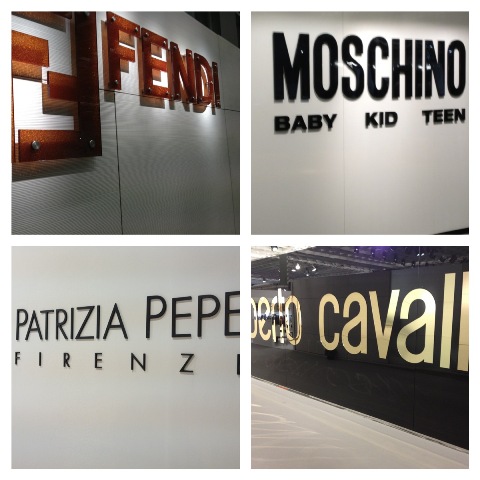 Twice a year the crème de la crème of the fashion industry meets at the Pitti immagine Bimbo in Florence, the world's most important fashion fair, in order to see the new trends and collections and to network.
We had you already reported, that Greta and Eve were at the Pitti Bimbo last week and today they share their impressions and trends from Pitti Bimbo with you.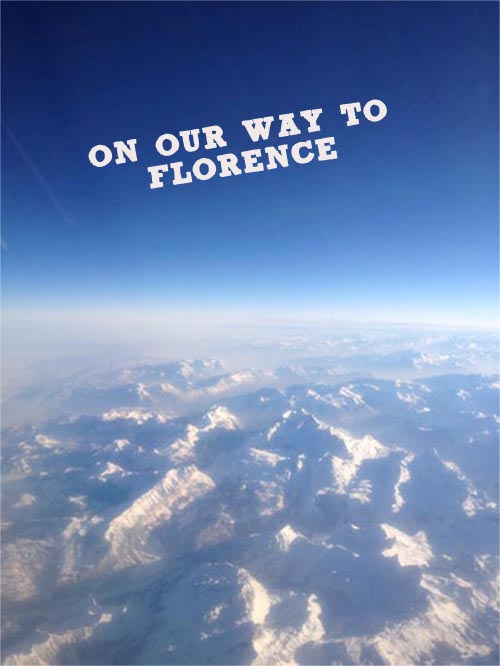 Just in time, our Lufthansa flight made it to Florence. After we had already missed the first machine as a result of bad weather (which strangely landed 3 hours later as the subsequent machine), we were rewarded with bombastic weather!
Florence, the sun shines! Tuscan hills dusted with snow and still pleasant temperatures in the city.
That way, it is a pleasure to attend Pitti Immagine Bimbo, the most important fair of children's fashion in the Fortezza Basso.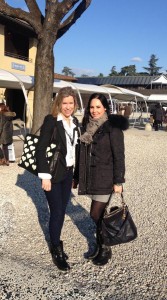 Kick off for our visit was the glittering fashion show by ilGufo, to which only the most important journalists and fashion bloggers were invited.
A collection inspired by fairy tales and fantasy, created like a ramble through the wizard of Oz, Alice in the Wonderland, Peter Pan or also the little Prince.
We were curious to see whether we would face little mini Gisèles or mini Naomis.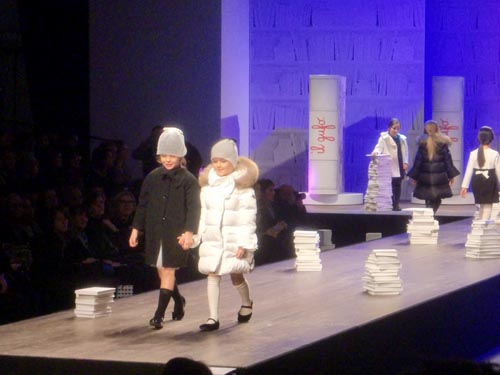 But nothing like!
Full of fascination, we saw beautiful dresses, great winter down jackets, cute ponchos… All presented by children, who presented the fashion full of naturalness, fun and cheerful.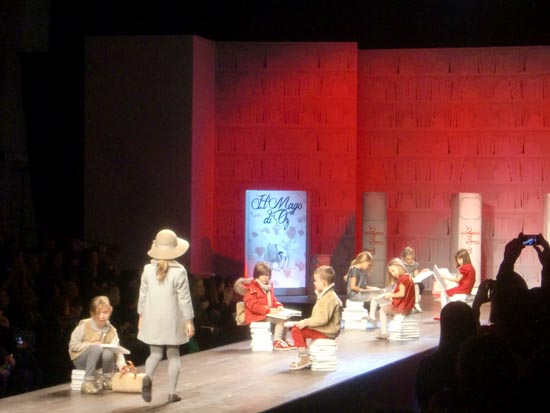 Also the speech of Chief Designer Giovanna Miletti was moving at the end of the show. She had started her dream of ilGufo already 30 years ago in a garage and today together with her daughter, has created an internationally renowned fashion label, which both stands for high-quality casual looks as well as for fine festive outfits.
Directly after the ilGufo show we had an appointment with Rykiel enfant, the children line of star designer Sonia Rykiel.
We immersed in a world full of wind and clouds, reflected in cheerful dresses and shirts with smiling clouds, polar bears and dancing fairies of rain. Rykiel is known for their typical horizontal stripes, which are of course also part of the children line.
The baby collection for next autumn/winter is especially cute, resembling with its red-and white stripes Candycanes at the Christmas tree.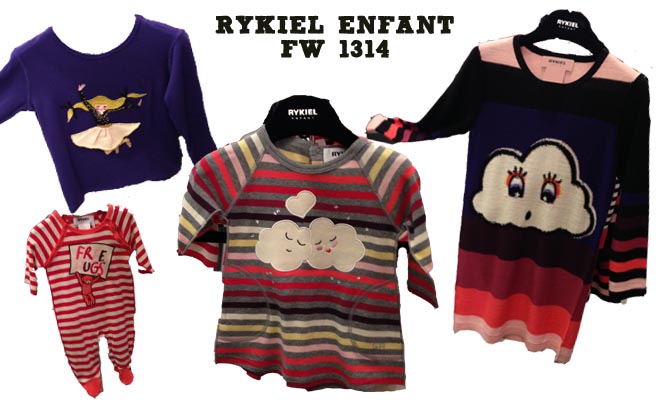 The boys shouldn't come to short and so we left for John Galliano kids who presented the cool fashion items for boys. Here, central theme is rock ' n roll. Rocker t-shirts, casual jeans with chains and small leather jackets are high in fashion which will be rounded off with the colors red and black.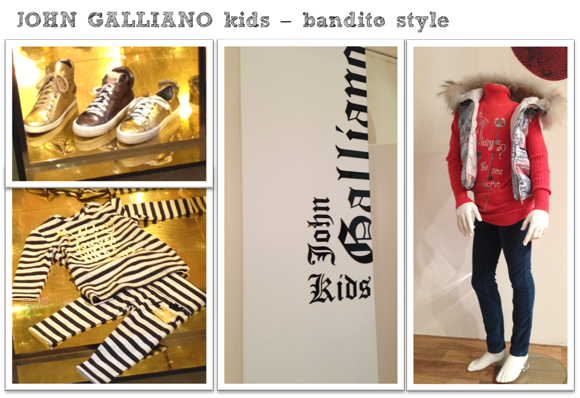 For the girls there is a strong focus on bling-bling with sequins, tulle and taffeta.
Galliano impresses with its unusual material mix of knitting wool, taffeta, fur, velvet and jeans. A great mix for a really successful collection.
At Stella McCartney and Little Marc Jacobs FW 2013 brings great colors like cornflower blue, mustard yellow and orange in the wardrobes of the boys.The witty Longsleeve shirts by Little Marc Jacobs with stick figures or robots are absolute must-HAVE for small Fashionists in the coming season.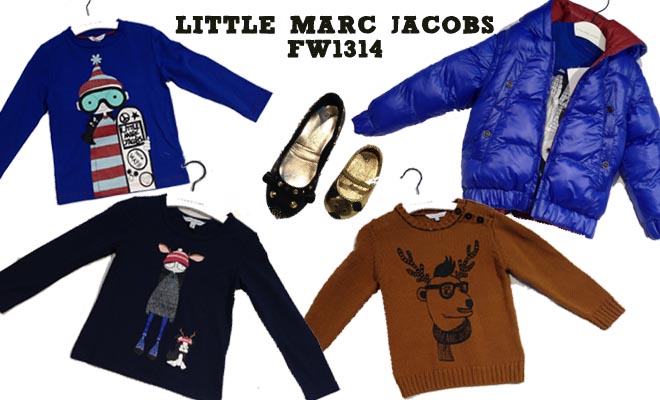 Miss Blumarine impressed once again with "hach" factor: one piece cuter as the other.
Like just from the fairy tale book, the cute dresses impress with fine materials such as taffeta, brokat, velvet or tull. The snowy whiteness of an icy forest provides a backdrop for the poetic range of colors with which Anna Molinari paints the winter and dresses dainty girls who love powdery nuances and forceful hues, intensified by unusual fabrics such as embroidered mohair with a lace effect and spectacular chenille studded with micro-sequins.

Like graceful little princesses, these girls favor harmonies of gray, chamomile yellow and gold, and cannot resist the skirts in laminated, pleated fabric or in fumé tulle embroidered with golden roses, the open-work knitwear in milky-white mohair with flashes of gold, and balloon dresses decorated with opaque sequins. This season's new temptations include honey-colored faux furs. A tribute to bon ton style lights up with shades of pink, wood, bronze and black, and is parsed in extraordinary fabrics that range from stretch chenille in rose patterns on tulle for dresses and skirts with a bubble silhouette, to black, point d'esprit tulle layered over silk.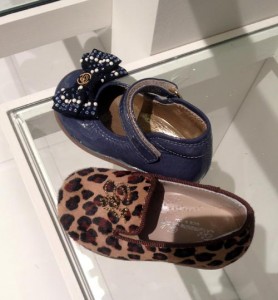 We also fell in love with their cute accessories: The mini loafer in faux Leopard fur with fake diamond stones which we would have loved to wear ourselves <3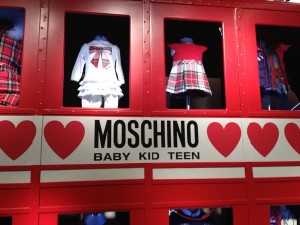 Little Moschino skillfully extends the pattern of the English flag into its upcoming autumn/winter 2013 collection and especially the dresses are anything other than Bobby-chic.
The by far most beautiful booths had Ermanno Scervino with a cozy polar landscape, where we would have placed us for a little nap.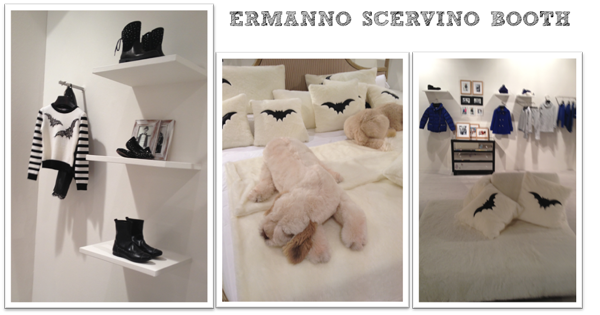 And of course the own Pavilion of i Pinco Pallino. Through a dark passage where one could only hear children's laughter we immersed in the world of i Pinco Pallino – in a historical cupola Hall he beautiful Brocade dress of the Italian luxury brand were hung from the ceiling. Magical creations, great materials… We were charmed.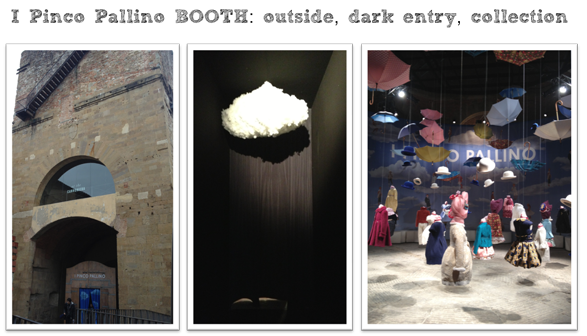 Overall the next FW 2013 impresses clearly with more courageous collections and materials where even real fur finds its way into the kids fashion.
Also most labels mix parts from the adult collections into the children's collections providing it with their highly fashionable character and style.
We are excited for next fall and winter 2013/14