Holiday season – let's go to a café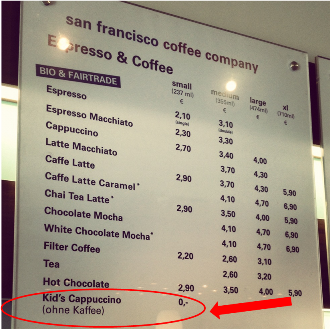 Finally holidays and vacation! And finally everyone is at home. In order you don't get too lazy between the years, a trip in a cozy Café is a funny idea.
Especially, since most of the Caféshave nice stuff for the little ones on the menu in the meantime , keeping the kids happy and treating mom and dad with a macchiato at a cosy bar.
The San Francisco coffee company in Munich has, for example, a cute kid's cappuccino on the menu!
For whopping: 0 €
Simply a wonderful milk foam which kids can eat with a spoon keeping them busy!
Maybe not every café has it written on the menu, but certainly also at the Café of your trust got it!
Bottom line: We like!