Mom's Challenge: Baby Shower for a good friend
von Greta am October 24th 2012 Tags: Babyshower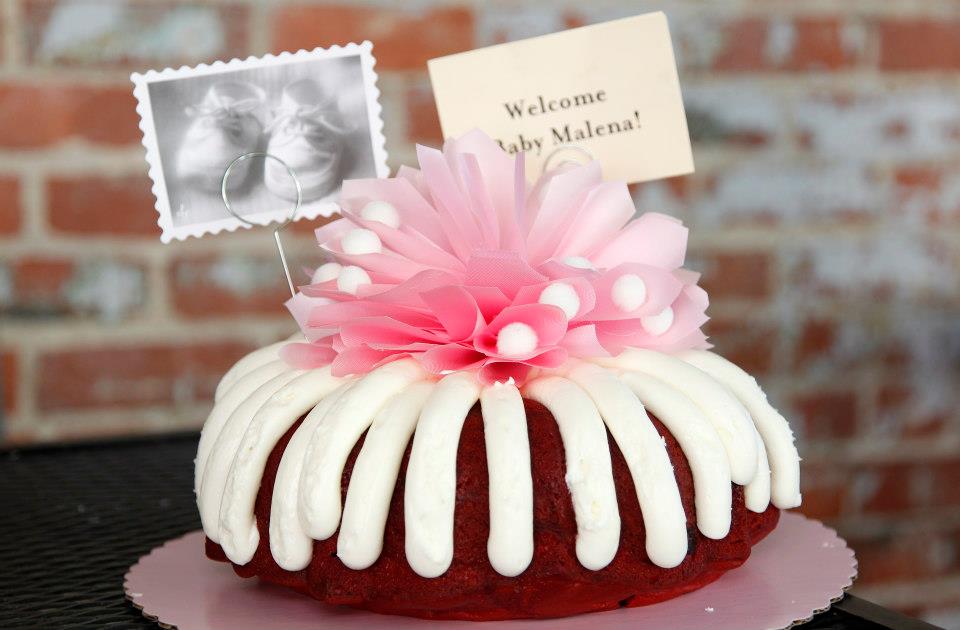 Although it's still quite uncommon to have a babyshower in German speaking countries, I am too much of a fan of American customs. Thus, it was a sure thing that I would host a babyshower party for a good friend of mine and soon mommy-to-be as a surprise party !
All of the preparation was quite challenging while having my little Pippa dancing around me and taking a lot of my time for herself, hence it should be a very splendid and cheesy and yet romantic party like in the USA.
Alicia was expecting a little girl, Malena – and thus it was for sure we would have a soft pink world of a baby.
Starting with yummie pink cupcakes with little baby flags on top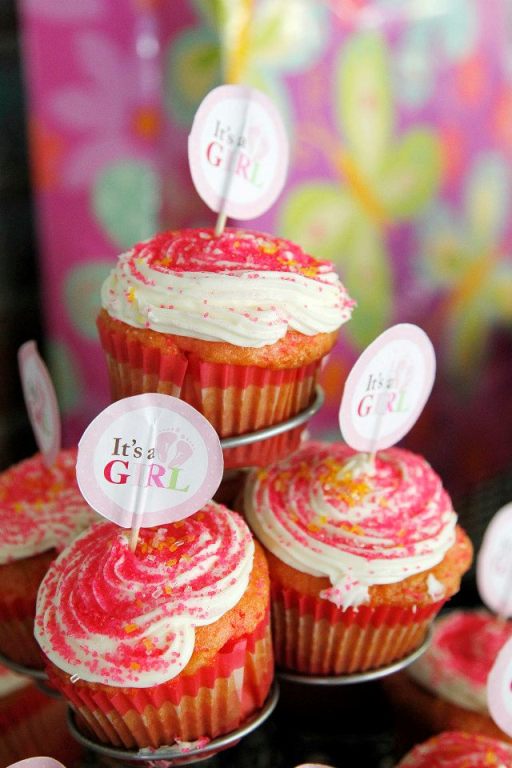 until cute give-aways for all attending girls – I think I haven't left out any detail and it was a wonderful surprise.
The afternoon was filled with loads of delicious coffee and cake, funny games and certainly the central point: the gifting shower.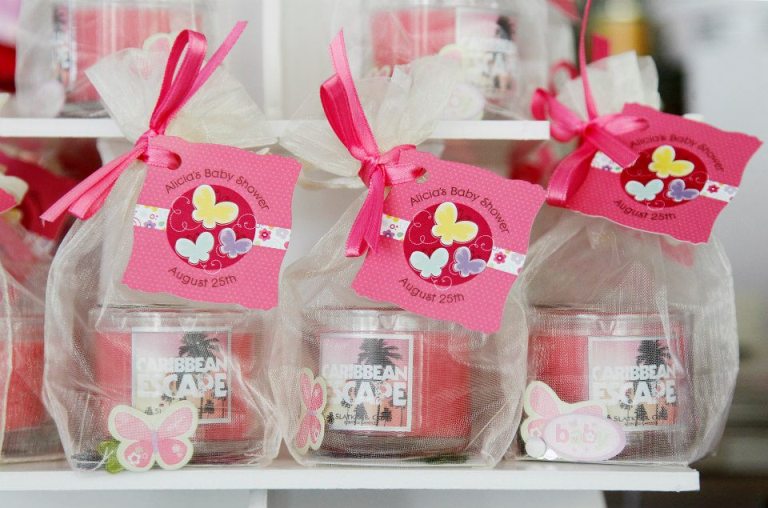 In the following you will find a list of ideas that I have integrated into my babyshower plan as well as some pictures for your inspiration.
Decoration ideas & inspirations for a cute babyshower: 
> Flags, garlands and balloons from the deco department of a toy store or a large department store
> Matching napkins, table covers, paper plates and cups, eg from Paper Eskimo on dawanda
> Cupcakes matching the color of the baby's sex (pink or babyblue)
> Drops, candy canes, lollipops and flowers matching the color of the baby's sex (pink or babyblue)
> Organza-bags filled with nice Give-Aways, here we hag eg Caribbean Escape Body Scrub in pink
> a pink diapers cake, either selfmade or from Dekosternchen on dawanda
> certainly aplenty pink gifts and packages
Games and entertainment ideas for a babyshower:
> Guessing game  "how big is mommies belly circumference"
> Guessing game "how many diapers are on the diapers cake"
> "How many baby products can you name" – listing game
> Colour & design baby onesies together (we have brought a bunch of white onesires in different sizes which we designed with textile colours)
Baby song karaoke or playback-Show
Nice gifting ideas for a babyshower
> A diaper cake with plenty of diapers
> The ultimate Mommie-to-be-bag, with everything in it what mommy might need
> Plenty of newborn stuff
> Pampers, Pampers, Pampers and again Pampers (even if everyone considers this to be unsexy new mums cannot have enough of it)
> Precious body care suff for baby and mommy, eg from L'Occitane or Dr. Duve
>Creative gift vouchers eg for 10x Babysitting or a mommy spa treatment
> "LIfesaves " such as a Activity Center from Fisher Price; on the one hand super ugly but on the other hand soooo helpful as baby is entertained for quite a while so mommy can take a shower or cook
Most important: Don't limit your creativity – the bolder and splendid your decoration the better. It just HAS to be cheesy!